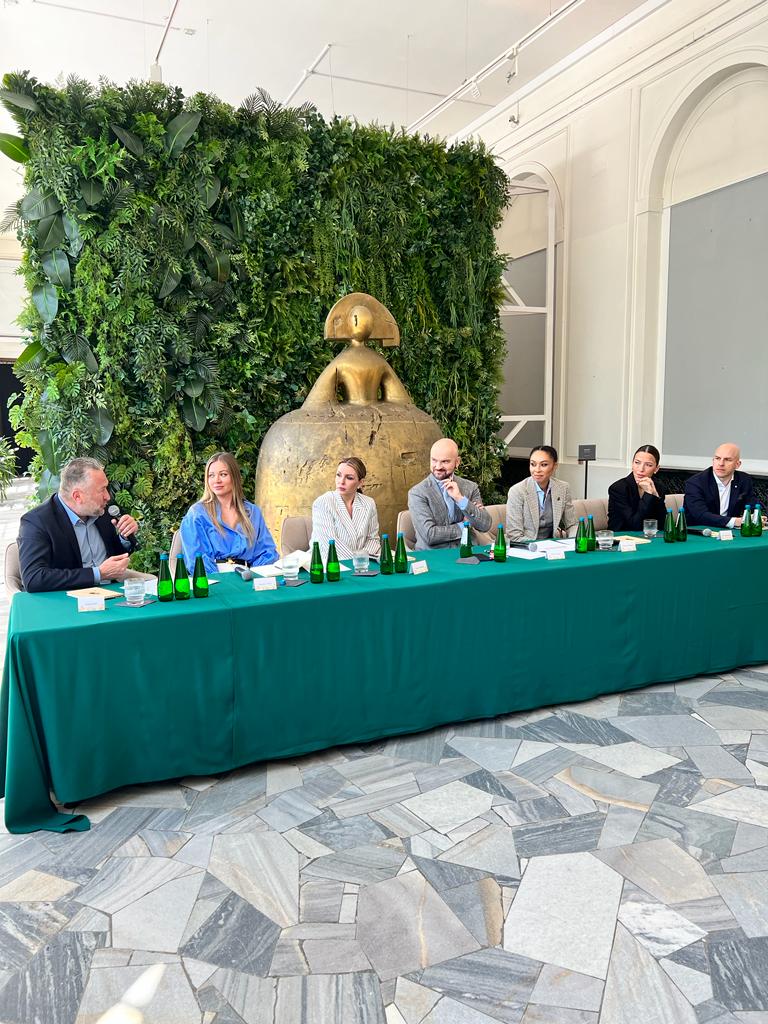 06 Jun

The first ever philanthropic lottery in Poland!

Omenaa Mensah and Rafał Brzoska, in collaboration with the Siepomaga Foundation, are organising the first ever philanthropic lottery in Poland!

This initiative has attracted the support of numerous celebrities, including Iga Świątek, Małgorzata Rozenek-Majdan, Ewa Chodakowska, Kayah, and Rafał Sonik. They are united by a common mission – to fulfil someone's dream and provide help to an increasing number of people in need.

On June 5, a press conference was held at the Orangery of Wilanów Palace. Here, Omenaa Mensah and Rafał Brzoska unveiled the results of the 2023 Grand Charity Auction. But that wasn't the only exciting announcement! Alongside Monika and Patryk Urban from Siepomaga.pl and friends of the foundation, they also launched the Grand Top Charity Lottery. By selling lottery tickets for just 100 PLN each, they hope to involve and encourage a larger part of the society to support various aid projects. Each ticket purchased goes into a draw for some truly unique prizes, including:
Quad biking training with Rafał Sonik on the Błędowska Desert
Diamond jewellery from the "Good Diamonds by Omenaa" collection
Personal training session with Joanna Jędrzejczyk
Fitness training with Ewa Chodakowska
A business lunch with the CEO of InPost, Rafał Brzoska
A meeting with Dariusz Miłek, CEO of CCC, and a tour of his company's headquarters
A guided tour of Małgorzata Rozenek-Majdan's favourite spots in Warsaw
An opportunity to attend a Kayah concert and meet the artist backstage
A luxury weekend for two at the Heron Hotel
A tennis racket signed by world tennis champion, Iga Świątek
A Polish national football team jersey signed by the players
Public speaking and self-presentation workshops with TVN24 journalist Joanna Kryńska
A make-up course with Magdalena Pieczonka.
"On June 3, we launched the Grand Top Charity Lottery on the Siepomaga.pl website. The proceeds from the lottery tickets will go towards supporting the Omenaa Foundation, which provides aid to smaller, locally-focused foundations as part of the Philanthropic Consortium", Omenaa Mensah stated at the conference.
Monika Urban from the Siepomaga Foundation added, "The Omenaa Foundation and the Siepomaga Foundation have teamed up to extend our reach and provide help across Poland. We believe that our auction will attract the support of thousands. We hope to raise a substantial amount, enabling us to assist hundreds of those in need, while also granting someone their dream."
The meeting, attended by journalists and stars, was hosted by Beata Tadla. Special guests included Omenaa Mensah, Rafał Brzoska, Monika Urban from the Siepomaga Foundation, Marta Dejneka, Ewa Chodakowska, and Rafał Sonik, who all generously contributed prizes to the lottery. Ryszard Chmura, representative of Corporate Connection, also sat at the main table.
Ewa Chodakowska, who is participating in the Grand Top Charity Lottery, explained, "Helping those who need our support is a responsibility that comes straight from the heart. Only by caring for individuals who are in difficult circumstances can we truly succeed as a society. For me, helping others is part of my DNA."
How to participate in the lottery?
1. Donate by selecting the 'Support' button and contribute a minimum of 100 PLN on the following page: www.siepomaga.pl/topcharity
2. Enter the code. After making your donation, you will receive an email from us with a special code. Enter this on the lottery website www.loteriatopcharity.pl
3. Select your preferred prize. From the list of available prizes, select the one you would like to win.
4. Each donation of 100 PLN or multiples thereof gives you additional chances to win!
The lottery will continue until the 23rd of June, 2023, and the grand prize draw will take place from 10 AM to 2 PM on the 30th of June, 2023.
An impressive sum of 12,780,000 PLN was raised at the gala auction, including artwork and memorable experiences, and it only took 1.5 hours to accomplish! Thanks to the generous private contribution from Rafał Brzoska, who once again matched the total sum of the auction, the overall funds raised reached a staggering 25,560,000 PLN. The total was further boosted by the purchase of numerous lottery tickets during the event, contributing 2,412,000 PLN, and an additional 400,000 PLN donated by guests independently of the auction. With the total now standing at 28,372,000 PLN from the 2023 Grand Charity Auction, this is set to increase further due to the online artwork auction, which is available for viewing on Artinfo.pl until 9 PM on June 6, 2023.
The most expensive piece sold during the Great Charity Auction was the "Iron Maiden" sculpture by Croatian artist Nikola Vudrag, which fetched an impressive 3,200,000 PLN! Some of the most sought-after experiences included a transformative '7-Day Metamorphosis' with Ewa Chodakowska, which went for 2,000,000 PLN, and an exclusive invitation from Omenaa Mensah and Rafał Brzoska to a dinner and live cooking demonstration at the Wilanów Palace, which raised 1,000,000 PLN!
Even as the excitement from the 2023 Top Charity Grand Charity Auction has not settled yet, Omenaa Mensah and Rafał Brzoska are already looking ahead to next year's event. They revealed that the next gala will be on the 8th of June, 2024, and will carry the intriguing theme of Japanese Baroque.