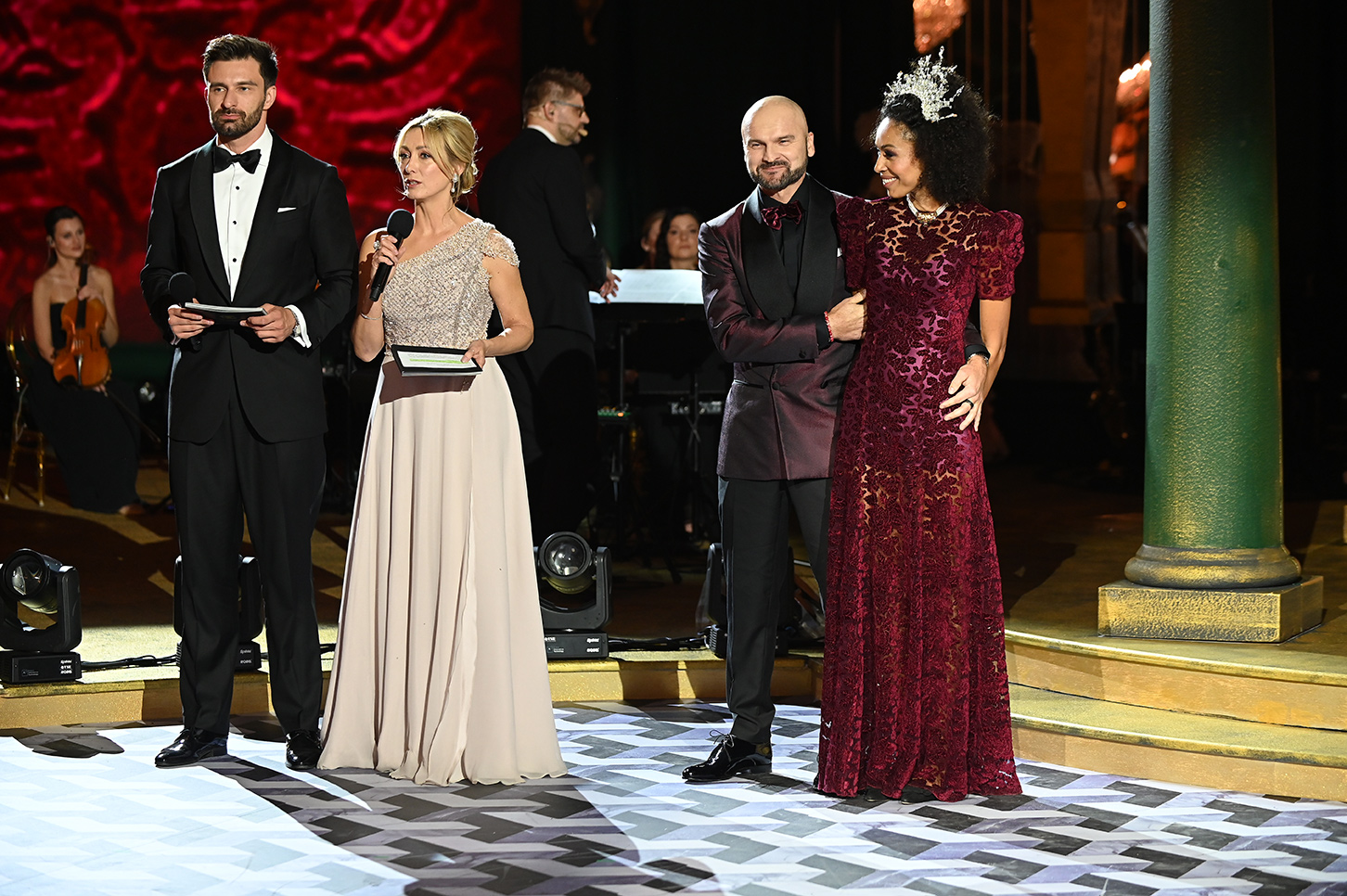 06 Jun

Another record broken! The Grand Charity Auction 2023
ANOTHER RECORD BROKEN! OMENAA MENSAH AND RAFAŁ BRZOSKA HAVE RAISED AN ASTOUNDING 12 MILLION PLN IN JUST 1.5 HOURS! HAVING DOUBLED THIS FIGURE, THEIR CHARITY AUCTION HAS MADE HISTORY, TALLYING A GRAND TOTAL OF OVER 28 MILLION PLN!
The astonishing sum of 28,372,000 PLN was collected during the 2023 Grand Charity Auction. The event was orchestrated by the efforts of Omenaa Mensah, Rafał Brzoska, and Corporate Connections. This figure is set to grow even further as contributions from private donors keep pouring in and the ongoing online auction, due to close on the 6th of June, continues to boost the total. Additionally, the event witnessed the presentation of Top Charity sculpture-statuettes, recognizing entrepreneurs who actively contribute towards aiding those most in need.
The Grand Charity Auction held its second edition on the 3rd of June. Hosted at the Wilanów Palace, the event was graced by the hosts, Omenaa Mensah and Rafał Brzoska, and by leading figures from Polish business, art, and entertainment circles. Notable guests included Małgorzata Rozenek-Majdan and Radosław Majdan, Ewa Chodakowska and Lefteris Kavoukis, Edyta and Cezary Pazura, Małgorzata Kożuchowska, Małgorzata Foremniak, Barbara Kurdej-Szatan, Rafał Zawierucha and Beata Wiśnicka-Zawierucha among others.
The gala, run by Anna Kalczyńska and Mateusz Hładki, saw the likes of Anita Lipnicka, Mark Gray, Katarzyna Zielińska, Wojciech Domański, Łukasz Jemioł, Patricia Kazadi, Sandra Kubicka, Gosia Baczyńska, Katarzyna Zdanowicz and Magdalena Pieczonka as well as many more from the world of fashion, entertainment, and music in attendance. The auctioneers for the evening were Dorota Wellman, Jacek Piotrowski of the PolSwiss Art Auction House, and Bartek Jędrzejak.
Enlivening the night were performances from Tomasz Barański's Next Dance group, a string quartet, and Tarkowski Orchestra conducted by Jacek Tarkowski, culminating in a surprise concert by Alphaville performing their biggest hits.
The highlight of the evening was undoubtedly the auction of unique pieces of art and experiences within the 'Great Emotions' category. Notable artwork donors included Angelika Markul, Maria Papa-Rostkowska, Janina Wierusz-Kowalska, Rafał Bujnowski, Piotr Czajkowski, Tomasz Górnicki, Michał Jackowski, Łukasz Patelczyk, Zbigniew Rogalski, Xawery Wolski, Nikola Vudrag, and Cyryl Zakrzewski. An item from the collection of Marek and Agnieszka Roefler was among the prized pieces auctioned, alongside works acquired through courtesy of private collectors and institutions allied with Omenaa Mensah and her OmenaArt Foundation.
Among the eagerly anticipated parts of the auction was the 'Great Emotions' section, offering exclusive experiences such as private tour of the Susch Museum in Switzerland with Grażyna Kulczyk, a tennis lesson with Iga Świątek, an NBA game trip with Marcin Gortat, dinner with Maestro Andrea Bocelli, and a cruise on an exclusive Sunreef catamaran together with dinner in Dubai.
The standout sale at the Grand Charity Auction was the sculpture 'Iron Maiden' by Croatian artist Nikola Vudrag, which fetched an astounding 3.2 million PLN! From the 'Great Emotions' category, a transformative '7-Day Metamorphosis' with wellness guru Ewa Chodakowska was a crowd-pleaser, pulling in an impressive 2 million PLN (1.6 million PLN auctioned and 400,000 PLN post-auction). Additionally, an exclusive dinner invitation with live cooking at the Wilanów Palace, courtesy of Omenaa Mensah and Rafał Brzoska, sold for a handsome 1 million PLN!
The auction attracted dozens of enthusiastic participants. Applause echoed throughout the hall as the most generous contributors to the 2023 Grand Charity Auction were acknowledged. Taking the lead in their generosity were Sylwia and Robert Dobrzycki, Piotr Śledź, and Beata Drzazga.
In a whirlwind 1.5 hours, the total from the auctioned artworks and 'Great Emotions' experiences reached a staggering 12,780,000 PLN! Philanthropist Rafał Brzoska once again matched the total auction amount, as he did last year, leading to a grand total of 25,560,000 PLN. Contributing to this phenomenal result were numerous donations made during the gala and an additional contribution of 400,000 PLN received outside the auction framework.
With the tally from the Grand Charity Auction 2023 standing at an impressive 28,372,000 PLN, this figure is expected to climb further with proceeds from the online art auction, which is live on Artinfo.pl until 9:00 PM on June 6th, 2023. The auction includes works from artists such as Julia Medyńska, Anna Zalewska, Łukasz Zbroja, Krzysztof Renes, Łukasza Zbroi, Agnieszka Rowińska, Marcin Jasik, Patrick Tagoe-Turkson, Olga Mazur, Katarzyna Kukuła, Marek Bimer and Jerzy Baranowski.
"We hoped to outdo last year's results, but raising this tremendous sum truly surpassed our expectations! We are incredibly proud of our guests, who have demonstrated their kind-heartedness two years running. Poland's emerging businesses have shown exceptional unity and maturity in their philanthropic endeavours. It is inspiring to see how they can rally together for a noble cause and create a meaningful impact," share Omenaa Mensah and Rafał Brzoska.
How will the funds raised at the 2023 Grand Charity Auction be allocated?
"The funds will be directed towards the education and psychological support of children from Polish orphanages, children of the streets in Ghana, and children from Ukraine. A significant 30% will further fund projects of the Philanthropic Consortium," Omenaa Mensah and Rafał Brzoska add.
During the gala, Omenaa Mensah, Rafał Brzoska, and representatives Corporate Connections, Ryszard Chmura and Rafał Płuciennik, bestowed the prestigious Top Charity awards to deserving entrepreneurs. These are individuals who have shown exceptional commitment to aid those most in need. This year's honorees include Małgorzata Adamkiewicz, Dariusz Gałęzewski, Sylwia and Piotr Krupa, and Jerzy Krzanowski.
This year's Grand Charity Auction took inspiration from the Italian Baroque period. To capture the spirit of this past era and to respect the historic integrity of the Wilanów Palace Museum, a vast 2,500 square metre artistic installation was erected. This immersive environment transported the guests back to the 16th century. The development of the entire event was a ten-month endeavour, carried out by a dedicated team of 1,500 specialists. Art direction and set design were managed by Katarzyna Konkowska, creating a spectacle that included a live Baroque garden, a crystal hall housing an actual carriage, and a gourmet menu crafted by Chef Sebastian Kornacki.
The organiser of the Gala, Omenaa Mensah, and her team aspired to redefine quality in the philanthropic world. In order to faithfully depict the era, they collaborated with world-renowned specialists during the planning stages of the Grand Charity Auction and associated artistic events. These experts included Slovakian set designer Boris Kudlička and French designer Michael Coorengel, a Baroque specialist. Hubert Pudzianowski was the producer of the gala, Katarzyna Śródka was responsible for ensuring the staff costumes mirrored the era, and Maciej Sobociński, a director experienced in international projects and who has collaborated with celebrities such as Will Smith and Rihanna, was in charge of directing the gala. Throughout the project, Paweł Jaskanis, the director of Wilanów Palace, provided expert guidance.
Omenaa Mensah explained, "We wanted our donors to feel as though they'd been transported back to the Baroque era, and that required employing the top professionals from this part of the world. I took the entire design team on a tour of the Museum of King Jan III's Palace at Wilanów to allow us to plan every detail of the scenography, and capture the atmosphere of the period. Our guests joined us in paying homage to Wilanów Palace, dressing for the ball in Baroque-styled attire."
"As someone who aims for perfection, the satisfaction of our guests – who support our cause – is my utmost priority. We had several days of rehearsals to ensure the event would be perfect, and it was! This was my way of showing my respect for my guests, because quality signifies respect," she added.
But the Grand Charity Auction is more than just the gala that took place on June 3rd; it includes a series of complementary events. One such event is a world-class Pre-Auction Exhibition that began on May 9th in the Orangery of Wilanów Palace and continues until June 26th. This exhibition, curated by Hanna Wróblewska, a long-time director of the Zachęta National Art Gallery, features scenography by the acclaimed theatrical designer Boris Kudlička.